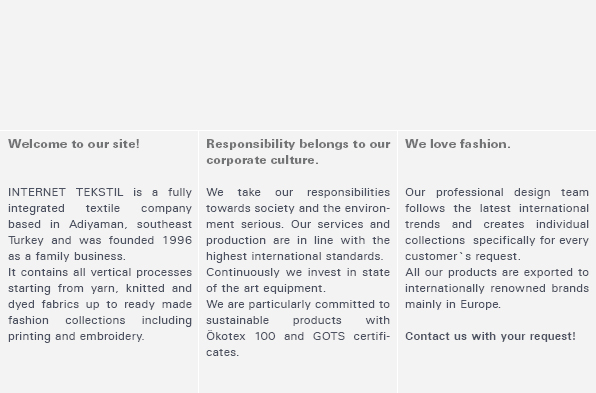 Welcome to the new site from the textile producer Internet Tekstil!
Our fully integrated textile production is based in Adiyaman, southeast Turkey and was founded 1996 as a family business.
It contains all vertical processes starting from yarn, knitted and dyed fabrics up to ready made fashion collections including printing and embroidery.
Responsibility belongs to our corporate culture.
We take our responsibilities towards society and the environment serious. Our services and production are in line with the highest internationally accepted standards.
Continuously we invest in state of the art equipment.
We have a strong awareness of quality and are particularly committed to sustainable products with Ökotex 100 and GOTS certificates.
We love fashion.
Our professional design team follows the latest international trends and creates individual collections specifically for every customer`s request.
All our products are exported to internationally renowned brands mainly in Europe.
Contact us with your request!
Webdesign und Programmierung Uptodate Websites Hamburg